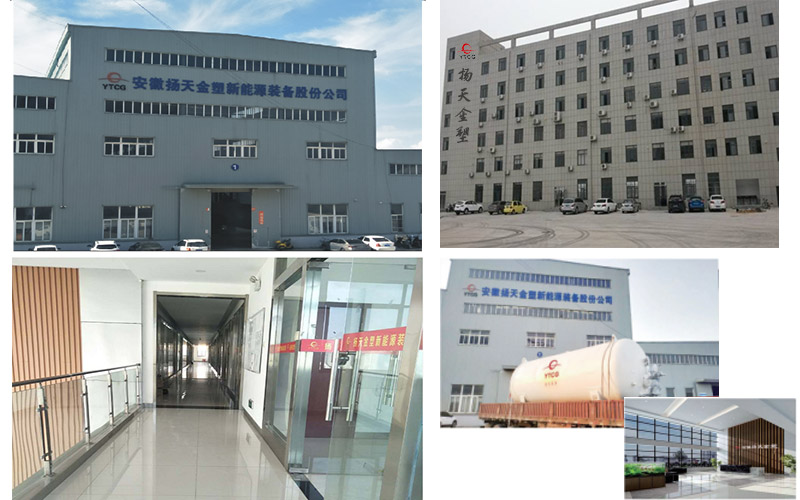 Anhui Yangtian Jinplastic New Energy Equipment Co., Ltd. is a subsidiary company of Anhui Yangtian Automobile Group. The company is located in Hefei City, Anhui Province, a famous city of science and education. It was founded in 1982 (reformed from the former tank car testing station of Anhui Labor Department). The registered capital is 50 million yuan, and it is an old-brand heavy industry enterprise in Hefei City.
The company has the design and manufacture qualification of A1 class A2 pressure vessel, the design of pressure pipeline (GB class, GC class), the installation qualification of pressure pipeline (GC class), the manufacturing qualification of special components of pressure pipeline, etc. It has passed the certification of ISO 9001 quality management system, ISO 14001 environmental management system, OHSAS 18001 occupational health and safety management system, enterprise AAA credit grade, and obtained the National Intellectual Property Administration. A number of patent authorizations, is a pressure vessel design, manufacturing, sales and engineering installation as one of the professional production enterprises, but also the special welder training and examination fixed-point units.
The company has more than 100 employees, including more than 40 professional and technical personnel, the company's construction area of more than 20,000 square meters, with fixed assets of more than 70 million yuan. At present, the annual processing capacity can reach 20 million tons, and the refitting project of 2000 liquefied gas transportation vehicles per year has been implemented.
Following the market demand, the company actively developed various pressure vessels and cryogenic equipment to further enhance the scientific and technological content of products and promote the transformation and renewal of traditional industries. The main products are I, II, III pressure vessel design, manufacture and installation; vacuum powder cryogenic liquid storage tank; LNG cryogenic vaporization prying system; LNG filling station complete set of gas supply devices; liquefied gas transport vehicles; LNG Internet of Things platform; power transformer supporting products, power plant ammonia equipment cleaning and maintenance project.
We have been adhering to the business philosophy of "creating world-renowned products, creating a long-lasting cause", taking "customer first, abiding by contracts, quality stability, timely delivery" as the operating principle, adhering to the enterprise policy of "people-oriented, quality survival, advocating science and technology, continuous improvement", and in line with the service purpose of "quality assurance, user first, credit guarantee, reliable service", for Customer service in all trades and professions to seek common development.
Recommendation information